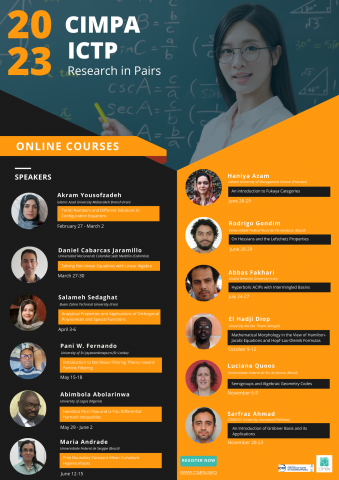 Throughout the year, you will be able to follow rich and varied topics.
These courses will be recorded and broadcast live. They will be available on our YouTube channel "CIMPA Math" and on carmin.tv.
Reminder
What is the Research in Pairs programme?
The CIMPA-ICTP Research in Pairs Fellowships programme provides an opportunity for mathematics researchers based in developing countries to come to Europe to collaborate with a colleague on a well-documented research project.
During the stay, a recording/broadcast of a mini-course in mathematics will be made either at CIMPA, ICTP, CIRM or CRM.
Some dates and hours may change. Please check this page regularly, as it will be updated whenever there are changes.
CIMPA/ICTP COURSES:
Akram Yousofzadeh, Islamic Azad University Mobarakeh Branch (Iran)
Tarski Numbers and Different Solutions to Configuration Equations
Dates: February 27 - March 2
Hours: 2pm - 4pm
Daniel Cabarcas Jaramillo, Universidad Nacional de Colombia sede Medellin (Colombia)
Solving Non-linear Equations with Linear Algebra
Dates: March 27-30
Hours: 3pm - 5pm
Salameh Sedaghat, Buein Zahra Technical University (Iran)
Analytical Properties and Applications of Orthogonal Polynomials and Special Functions
Dates: April 3-6
Hours: 2pm - 4pm
Pani W. Fernando, University of Sri Jayewardenepura (Sri Lanka)
Introduction to Nonlinear Filtering Theory toward Particle Filtering
Dates: May 15-18
Hours: 10am - 12am
Abimbola Abolarinwa, University of Lagos (Nigeria)
Hamilton Ricci Flow and Li-Yau Differential Harnack Inequalities
Dates: May 29 - June 2
Hours: 2pm - 4pm
Maria Andrade, Universidade Federal de Sergipe (Brazil)
Free Boundary Constant Mean Curvature Hypersurfaces
Dates: June 12-15
Hours: 3pm - 5pm
Haniya Azam, Lahore University of Management Science (Pakistan)
A gentle introduction to Fukaya Categories
Dates: 
Monday 26 June: 2pm - 4pm
Tuesday 27 June: 2pm - 4pm
Wednesday 28 June: 2pm - 4pm
Thursday 29 June from: 10am - 12pm
Rodrigo Gondim Neves, Universidade Federal Rural de Pernambuco (Brazil)
On Hessians and the Lefschetz Properties
Dates: June 26-29
Hours: 3pm - 5pm
CANCELLED
Abbas FAKHARI, Shahid Beheshti University (Iran)
Hyperbolic ACIPs with Intermingled Basins
Dates: July 24-27
Hours: 2pm - 4pm
El Hadji Diop, University Iba Der Thiam (Senegal)
Mathematical Morphology in the View of Hamilton-Jacobi Equations and Hopf-Lax-Oleinik Formulas
Dates: October 9-12
Monday 9 October: 3pm - 5pm
Tuesday 10 October: 3pm - 5pm
Wednesday 11 October: 3pm - 5pm
Thursday 12 October: 10am - 12am
Luciane Quoos, Universidade Federal do Rio de Janeiro (Brazil)
Semigroups and Algebraic Geometry Codes
Dates: November 6-9
Hours: 3pm - 5pm
CANCELLED
Sarfraz Ahmad, COMSATS University Islamabad (Pakistan)
An Introduction of Gröbner basis and its Applications
Dates: November 20-23
Hours: 2pm - 4pm