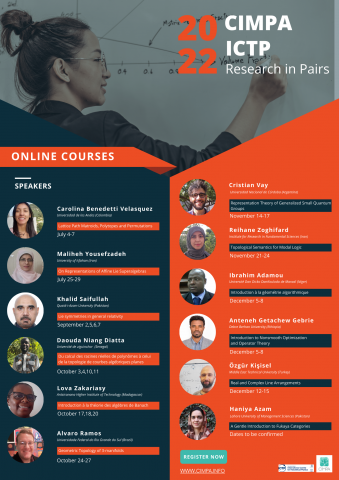 Throughout the year, you will be able to follow rich and varied topics.
These courses will be recorded and broadcast live. They will be available on our YouTube channel and on carmin.tv.
Reminder
What is the Research in Pairs programme?
The CIMPA-ICTP Research in Pairs Fellowships programme provides an opportunity for mathematics researchers based in developing countries to come to Europe to collaborate with a colleague on a well-documented research project.
During the stay, a recording/broadcast of a mini-course in mathematics will be made either at CIMPA, ICTP or CIRM.
Due to the current health situation, some dates may change. Please check this page regularly, as it will be updated whenever there are changes.
Carolina Benedetti Velasquez
Universidad de los Andes (Colombia)
Lattice Path Matroids, Polytopes and Permutations
July 4-7
From 2pm to 4pm.
Maliheh Yousefzadeh
University of Isfahan (Iran)
On Representations of Affine Lie Superalgebras
July 25-29
Khalid Saifulla
Quaid-i-Azam University (Pakistan)
Lie symmetries in general relativit
September 2,5,6,7
Daouda Niang Diatta
University of ziguinchor (Senegal)
From the calculation of real roots of polynomials to the calculation of the topology of plane algebraic curves
October 3,4,10,11
From 3pm - 5pm
Lova Zakariasy
Antsiranana Higher Institute of Technology (Madagascar)
Introduction à la théorie des algèbres de Banach
Monday 17 October: 9am - 11am / 2pm - 3pm
Tuesday 18 October: 9am - 11am / 2pm - 3pm
Wednesday 20 October: 1pm - 3pm
Alvaro Ramos
Universidade Federal do Rio Grande do Sul (Brazil)
Geometric Topology of 3-manifold
October 24-27
Cristian Vay
Universidad Nacional de Córdoba (Argentina)
Representation Theory of Generalized Small Quantum Groups
November 14-17
From 2pm to 4pm.
Reihane Zoghifard
Institute for Research in Fundamental Sciences (Iran)
Topological Semantics for Modal Logic
November 21-24
From 2pm to 4pm.
Ibrahim Adamou
Dan Dicko DanKoulodo University of Maradi (Niger)
Introduction to algorithmic geometry
December 5-8
From 2pm to 4pm.
Anteneh Getachew Gebrie
Debre Berhan University (Ethiopia)
Introduction to Nonsmooth Optimization and Operator Theory
December 5-8
Özgür Kişisel
Middle East Technical University (Turkey)
Real and Complex Line Arrangements
December 12-15
From 2pm to 4pm.
Haniya Azam
Lahore University of Management Sciences (Pakistan
A Gentle Introduction to Fukaya Categories
dates to be confirmed
Course summary