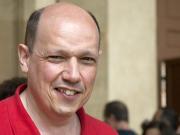 Interview of Prof. Thierry Masson (CNRS researcher in mathematical physics) on the website of the International Centre for Interdisciplinary Science and Education.
In this interview Prof. Thierry Masson speaks about developing science in Southeast Asia after his recent experience in organising a CIMPA Research School at the ICISE conference center (Quy Nhon city, Vietnam).
To view the full article, click here.